Per Diem RN L&D (Labor and Delivery) Float
Job ID: 109285
Date posted: April 15, 2021
Sharp HealthCare
Staffing Resource Network
Night Job
Per Diem
Success Profile
Wondering what qualities it takes to be a successful nursing professional at Sharp? View some of the traits we're looking for below.
Innovative
Collaborative
Resourceful
Advocate
Person-Centered
Critical Thinker
Responsibilities
Summary
What is Staffing Resource Network (SRN)?
SRN provides supplemental staffing throughout Sharp Healthcare.
About Staffing Resource Network:
SRN float pool offers the ability to float around the Sharp system and experience the different units and cultures and then pick your favorites and pre-book there. The ultimate in flexibility and variety!
The SRN department offers opportunities to experience a wide range of patient care at various sites within Sharp HealthCare. Sharp promotes quality patient-family centered care in a team environment with excellent customer service. This position requires an enthusiastic, positive individual willing to be a part of a dynamic float pool servicing all of Sharp HealthCare.
Being a Nurse at Sharp you would be dedicated to making health care better for our patients, their families and one another. It's what we call The Sharp Experience and it comes to life in everything we do. It's what we do, it's how we do it and why we do it.
This might be the Nursing position for you if you:
Enjoy Control over your work schedule

Enjoy variety

Easily adapt to new environments

Are a people person

Are an enthusiastic positive individual
Perks of being an employee in SRN: 
Control over your work schedule 

Networking as you float to various sites/departments

Opportunities to work in various specialties based on experience

Differential for floating to different levels of care/site

Work with Great Supervisors & Staff

Get paid 10 percent more hourly for all shifts in that pay period

Earn extra money by bidding on and working shifts of your choosing via the Bid Shift program
Our Hospitals:
Sharp Mary Birch Hospital for Women and Newborns
Sharp Mary Birch Hospital for Women and Newborns is a nationally recognized, full-service Women's Hospital with approximately 8,500 deliveries per year and is part of the Sharp HealthCare system. In 2013 the hospital earned Prominent Designation as a Center of Excellence in "Minimally Invasive Gynecologic Surgery."  Located in San Diego, it is nationally recognized for its care of expectant mothers and delivering babies, as well as its Level III Neonatal Intensive Care Unit – the largest in Southern California. Other services include Operating Room suites and PACU, Mother/Infant Services, Women's Acute Care, and the Perinatal Special Care Unit with centralized monitoring specializing in high-risk antepartum care.
Sharp Chula Vista Medical Center (SCV)
The Women's and Infant Services at Sharp Chula Vista Medical delivers 250-300 infants/month.  The Labor and Delivery department is comprised of an 8 bed triage, 10 bed LDR suite, 19 bed Post-Partum unit, 2 OR suites, 3 bed PAU and a 9 bed Level II NICU.
As the leading provider of health care services in the South Bay, Sharp Chula Vista Medical Center is a 343 bed facility that delivers high-quality care designed to meet the needs of the community, with the largest array of health care services in San Diego's South Bay. A Designated Planetree Patient-Centered Care Hospital, Sharp Chula Vista is home to the region's most comprehensive heart program and also offers exceptional services for orthopedic care and women and infants.   
Sharp Grossmont Hospital (SGH)
Our Labor & Delivery Unit provides a homelike setting with 24 private suites performing over 3600 deliveries per year. Our unit is unique in that we are all inclusive-triage, labor and delivery, antepartum care, and post-partum care.  There are 4 triage beds, 3 OR suites and 4 recovery beds.  As part of our family-centered approach we encourage family members to participate in the birthing experience and support all mothers with their birthing choices.  We have an active Unit Practice Council and offer a variety of continuing education.  We are looking for flexible, enthusiastic staff to join our team and add to the outstanding patient care we provide.
Sharp Grossmont Hospital is the largest not-for-profit, full-service acute care hospital in the region with 536 beds. The hospital has outstanding programs in heart care, orthopedics, rehabilitation, robotic surgery, mental health, stroke care and women's health. In addition, the hospital's Emergency and Critical Care Center is one of the most technologically advanced emergency and intensive care facilities in the nation.
Sharp Grossmont Hospital is nationally recognized as a MAGNET®-designated hospital for patient care and nursing practices. This designation is the "gold standard" for patient care and nursing excellence and is the highest honor awarded by the American Nurses Credentialing Center.
*** SRN RN L&D (Labor and Delivery) ***
Location
Ability to work throughout Sharp HealthCare, San Diego County
Hours
Per Diem, 12-Hour Variable Night Shift; Weekends as Needed
A minimal commitment of hours - work only 4 shifts per month, one of which is a weekend shift, of your choosing. Float within your level of care to more than one Sharp facility in the pay period and get paid 10 percent more hourly for all shifts in that pay period. Pre-book your shifts to a facility or unit of your choice, or choose to float to the area of greatest need. Earn extra money by bidding on and working shifts of your choosing via the Bid Shift program.
Sharp HealthCare pregnancy and childbirth hospitals are conveniently located across San Diego County. Delivering the most babies in California each year, we are dedicated to providing exemplary services, caregivers and accommodation to women and their newborns. Along with state-of-the-art labor and delivery suites and high-level NICUs, we offer family-centered care where there is room for a birth partner to stay each night.
Required Skills and Qualifications
Current unencumbered California Registered Nurse license

Graduate of Nursing School

Associates of Science Degree in Nursing

Three (3) years of acute care clinical experience

Current BLS certification for Healthcare Providers

Current Neonatal Resuscitation Program (NRP) certification

Current AWHONN Advanced or Intermediate Fetal Heart Monitor Course
Preferred Skills and Qualifications
Bachelors of Science Degree in Nursing
Sharp HealthCare is proud to be an Equal Opportunity/Affirmative Action Employer. All qualified applicants will receive consideration for employment without regard to race, color, religion, sex, national origin, disability, gender identity, transgender status, sexual orientation, protected veteran status or any other protected class.
Perks
Medical, vision and dental

Generous time off

Flexible schedule

Professional growth

Wellness Programs

Education reimbursement
Culture/Values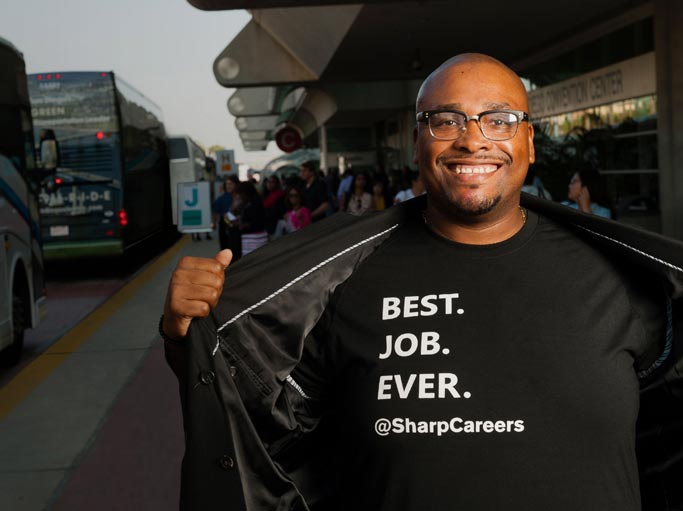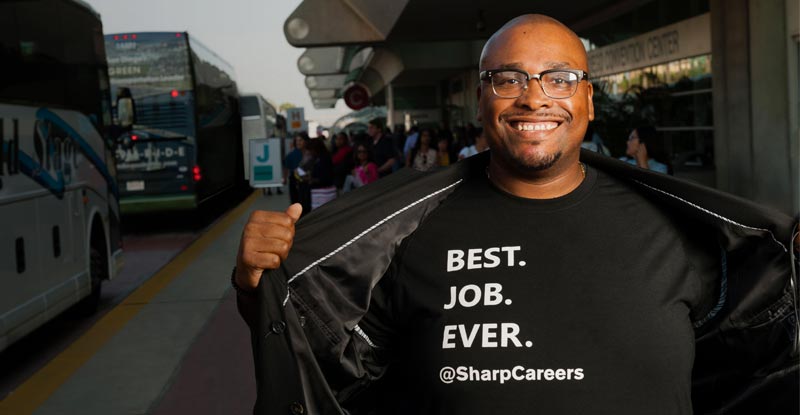 Committed to excellence in all that we do
Built to be supportive and educational — a place where employees can grow and thrive
A positive, compassionate, friendly and team-oriented atmosphere
Thankful for the contributions and hard work of others, and praising their accomplishments
Committed to creating a safe environment for those we serve
Celebrate diversity, recognizing that our unique differences create a stronger whole