Web Application Architect, Web Development
Job ID: 102039
Date posted: April 16, 2020
Sharp HealthCare
ISD Web Development
Day Job
Full-Time
Success Profile
Wondering what qualities it takes to be a successful IT professional at Sharp? View some of the traits we're looking for below.
Innovative
Analytical
Collaborative
Strategic
Initiative
Critical Thinker
Responsibilities
Summary
Sharp HealthCare's Information Systems Department was rated "Best Hospital IT Department" in the large hospital category by HealthCare IT News and is nationally recognized within the health care industry. Sharp HealthCare's IT department is consistently ranked in the top "100 Most Wired HealthCare Systems" by Hospitals and Health Networks Magazine and recently ranked in Computerworld's "Best Places to Work", Sharp HealthCare was ranked #1 in the Pacific region.
The Web Application Architect Provides a leadership role for the Web Development team encompassing all aspects of application design and development, interfaces, secure programming, scalability, and system performance.Will lead IT project initiatives involving new technology, defines web technology architecture, and creates roadmap to achieve approved architecture.
The Web Development team is responsible for the programming and technical infrastructure behind www. Sharp.com and SharpNET. The team partners with Digital Marketing Team to bring the Sharp Experience to patients, visitors and employees by using the latest in Web technologies and state-of-the-art software and database design. 
Sharp System Services have campuses located in the communities of Kearny Mesa and Serra Mesa and consist of the Spectrum location, the Ruffin Road location and Sharp Operations Center (SOC).  These offices provide the centralized integrated system support services to the operating entities within the system.  These services include: Strategic Planning, Business Development, Information Systems, Compliance, Internal Audit, Legal, Risk Management and Insurance, Contracts, Human Resources, Facilities Management and Development, Clinical Effectiveness, Finance, Nursing, Systems Supply Chain Services, Marketing and Communications, The Sharp Experience and Sharp University.
Location
This position is located in Kearny Mesa, San Diego County.
Hours
8 hour -Day shift; Weekends as needed.
Preferred Skills and Qualifications
Bachelor's degree in an applicable field with minimum 10 years IT experience

Master's degree in an applicable field with minimum 7 years IT experience

Minimum (10) ten years of experience in an Information Systems role with a minimum seven years of experience in application development with technology used at Sharp (HTML, CSS, JavaScript, REACT, SOAP, Rest, git, JSON, XML others)

Experience in application design patterns and principles, development methodologies, tools, and best practices

Demonstrate understanding of application architecture and infrastructure as they relate to service delivery including availability and performance

Demonstrate understanding of secure programming concepts as they relate to web application development with ability to define solutions that mitigate risks including but not limited to the OWASP Top 10

Demonstrate understanding of PCI and HIPPA compliance requirements and ability to design and develop solutions that conform to those requirements

Experience with complex database design concepts and the ability to determine the best solution based on individual project requirements and goals

Experience interfacing with both internal and 3rd party APIs as well as designing and developing new APIs as part of a services oriented architecture

Provide mentorship for junior staff members and assist them with their technical challenges
Sharp HealthCare is proud to be an Equal Opportunity/Affirmative Action Employer. All qualified applicants will receive consideration for employment without regard to race, color, religion, sex, national origin, disability, gender identity, transgender status, sexual orientation, protected veteran status or any other protected class.
Perks
Medical, vision and dental

Generous time off

Telecommute

Professional growth

Education reimbursement

Innovation
Culture/Values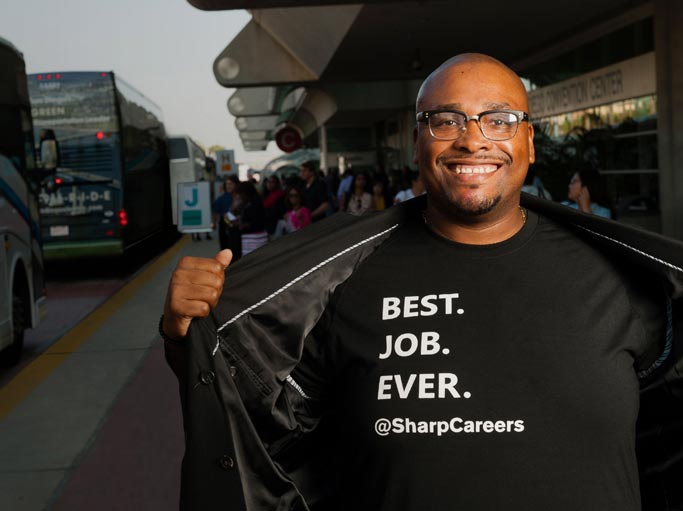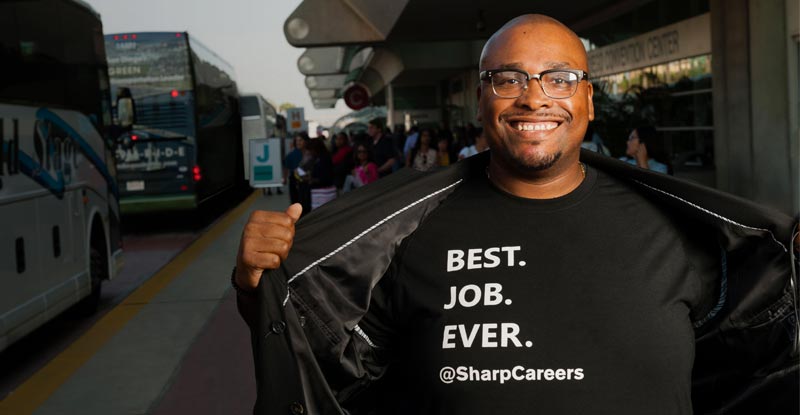 Committed to excellence in all that we do
Built to be supportive and educational — a place where employees can grow and thrive
A positive, compassionate, friendly and team-oriented atmosphere
Thankful for the contributions and hard work of others, and praising their accomplishments
Committed to creating a safe environment for those we serve
Celebrate diversity, recognizing that our unique differences create a stronger whole