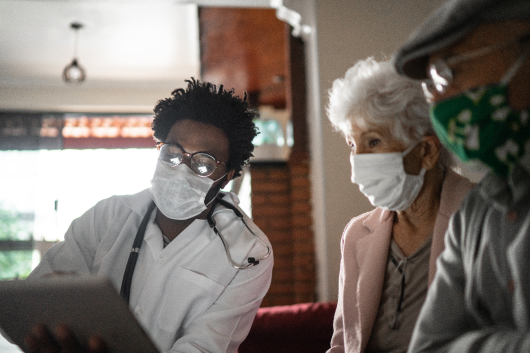 Sharp Home Health is a collaborative, patient-focused department that delivers care where the patient feels most comfortable — right in their own home.
Emphasizing a team environment, where communication and adaptability are key, our caretakers work with patients and their loved ones at home to enhance recovery, independence and long-term wellness.
If you're looking for a rewarding career with the freedom to set your own schedule, Sharp Home Health may be the place for you.
Meet Tracy, Home Health RN, and Devin, doctor of physical therapy, Home Health physical therapist II. Learn what a day in the life of a Sharp Home Health employee is like, their career journeys and how Sharp supports them so they can focus on providing the best possible care to their patients.
What made you interested in a career in Home Health?
Tracy: I've been a nurse for 10 years. I knew early on I didn't want to be in the hospital. In the hospital, you get patients, you take care of those people and you may never see them again. In the home, there is a lot of autonomy. You must be confident in what you're doing because it's just you.
Devin: I was working at a skilled nursing job prior to working at Sharp and my boss at the time was doing Home Health on the weekends and afternoons. I noticed she was autonomous and able to create her own schedule; that's what initially piqued my interest.
A few years later my coworker started a Home Health business, and I worked with them as an independent contractor while still working at the skilled nursing job. When I was ready for a career change, I started looking into Home Health because I was able to make my own schedule, had more freedom and was less hectic in seeing so many patients in a day. In outpatient care, I'd see about 20 patients in a day, where Home Health is a bit of a slower pace.
What are your day-to-day responsibilities in your role?
Tracy: Whatever the patient's needs are, I do. I will see no more than five routine patients per day. Whether it's wound care or lab draw, you go to their home and provide them the care they need. There's charting, calling the doctor and reporting any updates on the patient, ordering supplies for them, the list goes on.
Throughout the plan of care, things can change and evolve. I work closely with the case manager, physical therapist and doctor. A lot of communication is involved to keep everyone on the same page, so the patient can receive the best care possible.
Devin: In general, every day my job is to make sure my patients, family members, doctors and teammates are all coordinated and happy. I start my day scheduling my patients to visit. On average, I see about four patients a day, but can see anywhere from two to five patients a day.
Then I travel to each patient's home to work with them. I'll notify the rest of the team that's also working with the patient of any updates or changes.
Most importantly, there's a lot of responsibility coordinating with the family members. That's what's unique to Home Health; you're face to face with the family members in the home. Not only are you working with the patient, but you're working with the family. It's really important to communicate with them.
A big part of my job is to be organized and manage the team to make sure we're all successful for the patient.
What are the benefits of a Home Health career?
Tracy: I like the independence and freedom. I drive between patients, so my office is San Diego County. Who wouldn't want that for an office, as opposed to the four walls in a hospital? Also, in Home Health I really have to trust my training and instincts, which I think makes me a better nurse.
Devin: The flexibility to create my own schedule and the freedom is a big one. But also, you are going into a patient's home, so you're getting the unique experience of seeing a patient in their environment. Because the patient is in their home, they are more receptive to the therapy sessions. Patients seem to be more motivated to get better in the home setting.
I enjoy the ability to see a patient, and then when I'm driving to the next patient, I'm able to decompress. There's a little gap in between, so you're able to reset for the next patient.
How does Sharp support Home Health employees?
Tracy: Our supervisors are wonderful; they set us up for success. We make such a great team. Sharp really provides us with whatever we need. There's a strong mentorship presence. In the beginning, you ride along and shadow someone and they show you how everything's done so we're all doing things the same way. We get a lot of education opportunities, like sending us to wound care classes. Whatever we need to be better, they provide it.
Devin: Sharp provides you with all the equipment you'll ever need. Also, when you first start you have a preceptor for three months to help integrate you into the Sharp team. So, you don't get thrown into the deep end, you gradually get brought in and that was really helpful.
Each team has a supervisor, so you have direct support in the office. That's your go-to person if you have any issues. Our office staff is amazing, they can help with scheduling, contacting the doctors, faxing notes, etc. Also, Sharp offers amazing benefits. There are so many resources for you — anything you need, Sharp has the ability to help you.
What made you stay in a career in Home Health?
Tracy: I don't know of a more rewarding job. I feel like I've made such an impact on people's lives. From creating relationships with patients and their families to teaching the family members ways to better care for their loved ones — that's what keeps me doing this. I love working with the families in their own home. I think it's the best possible nursing that exists. Every day, I feel really good about the work I do. I want to retire doing Home Health. I love this.
Devin: Sharp. When I got to the interview, I noticed they really care about their patients and they seem to be a great team. I felt really welcomed into the Sharp family. After about a year, I realized this was the best company I've ever worked for.
Are you ready to join Sharp's Home Health family? Discover your rewarding career today!