Per California Department of Public Health, Sharp HealthCare now requires employees, including remote workers, to provide proof of full vaccination for COVID-19 or receive a medical or religious exemption.
Become part of a health care organization with a vision to become the best place to work, practice medicine and receive care. It's all part of the extraordinary level of care we call The Sharp Experience.
After all, Sharp is a unique place. As San Diego's leading care provider and a proud not-for-profit organization, we value what you do — just as much as we celebrate who you are. As a member of our open and collaborative team, you'll have everything you need to do your best work. Join a welcoming culture that empowers you to grow, supports you to excel and challenges you to succeed.
Featured Career Areas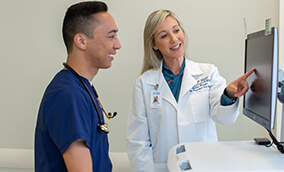 Nursing
298 Open roles
As a recognized leader in nursing excellence with Magnet® recognitions for high-quality, patient-centered care, we invite you to join us in providing health care the way it should be. We offer a wide variety of nursing positions — from RNs and clinical nurse leads to case managers and clinical nurse specialists.
Life as an ICU Nurse
The growth and success of our nursing staff in the intensive care unit is important to us. From being surrounded by knowledgeable colleagues to being offered the tools and resources to provide excellent care, our ICU nurses share just a few reasons why they chose Sharp HealthCare to excel in their careers.
Life as an ED Nurse
As an organization, we pride ourselves in cultivating an environment where our nursing staff can learn from and support one another, and gain exposure to opportunities that can enhance their careers with Sharp.
Stay connected and join the career interest community
Want to stay informed about career opportunities and life at Sharp? Join our career interest community and receive information that matters to you.
Join the community