SHARP HEALTHCARE
Health Care Jobs at Sharp
Encouraging everyone to find their passion and purpose is at the heart of The Sharp Experience. We are focused on providing an innovative and caring environment where employees are valued for the role they play in helping Sharp achieve its vision to be the best place to work, practice medicine and receive care. Become a part of our team and find out what it means to do what you love.
Search jobs
Sharp employee job search
About Sharp
As San Diego's health care leader, we've set the community standard for exceptional care and are the No. 1 integrated health care network in California. With more than 16,000 dedicated employees, we are proud to be the largest private employer in San Diego County.
Since 2001, our team has been on an exciting journey to transform the health care experience. We are passionate about providing health care the way it should be. With exceptional skill. With advanced technology. And, especially, with kindness and empathy toward our patients and their loved ones. It's going beyond caring for people to caring about people. This is the extraordinary level of care we call The Sharp Experience.
As San Diego's largest and most comprehensive health care system, we offer a wide choice of career opportunities at our four acute- care hospitals, three specialty hospitals, two affiliated medical groups, outpatient and urgent care centers, home health, hospice and skilled nursing facilities.
Sharp Health Plan
Sharp Health Plan — a subsidiary of Sharp HealthCare — is the only commercial health plan based in San Diego. We live, work and play in the same communities as our members — we not only serve the people of San Diego, we are the people of San Diego.
Sharp Health Plan provides dynamic and unique career opportunities. To learn more about our career opportunities, enter "Sharp Health Plan" in the keyword search box above or contact Recruitment at jobs@sharp.com. To learn more about Sharp Health Plan, visit www.sharphealthplan.com.
Sharp employees
Learn about Sharp HealthCare's exciting journey to transform the health care experience.
Tabitha, a physical therapist, helps her patients regain independence and an appreciation of life.
Registered Nurse Toni cares for patients with high-risk pregnancies at Sharp.
New Graduate Nurse Residency Program and RN transitional programs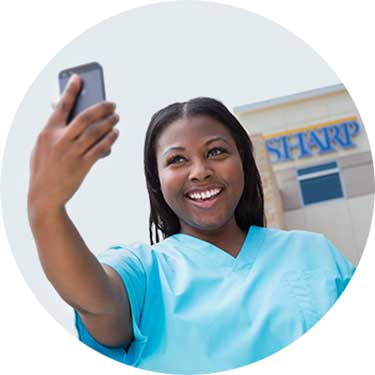 Sharp's New Graduate Nurse Residency Program is designed to provide a flexible and supportive environment to help the newly graduated RN build the confidence needed to become a nursing professional.
Sharp's Transition in Practice programs and training programs are designed for RN's with at least one year of experience who are interested in developing nursing knowledge and skills in various departments of the acute hospital setting.
Our nurse residency and training programs offer a wide range of opportunities — from women's health, medical/surgical and progressive care units to intensive care units, emergency department and psychiatric/mental health nursing.
For more information on these programs, visit New graduate nurse residency program and RN transitional programs.
Special accommodations
Special accommodations to access job openings or apply for a job are available from 8 am to 4 pm, Pacific time, Monday through Friday. Please call 858-499-5285.
In order to be considered for a position at Sharp HealthCare, a candidate must apply online for a specific open opportunity and complete an online employment application. Read more
Candidate résumés and applications must be less than one year old in order to be considered. Candidates may also be asked to answer job-related questions online during the application process. All information must be complete in order to be considered for employment. Positions are offered to individuals once it is determined that they are best qualified for the role. Read Less
If you are an agency or headhunter, review our policy.
Sharp HealthCare is proud to be an Equal Opportunity/Affirmative Action Employer. All qualified applicants will receive consideration for employment without regard to race, color, religion, sex, national origin, disability, gender identity, transgender status, sexual orientation, protected veteran status or any other protected class.