Start your career off right
Moving from the classroom to the patient room is where the real work begins, but the learning never ends. At Sharp, we've designed a program that provides a flexible, supportive environment to help build the confidence you need to become the best nurse you can be.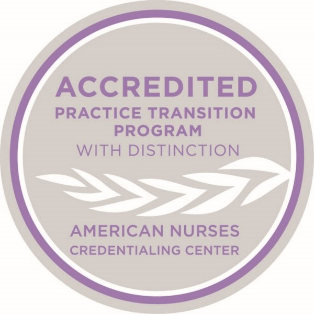 The Sharp HealthCare New Graduate Nurse Residency program has achieved accreditation with distinction from the American Nurses Credentialing Center (ANCC). ANCC Practice Transition Accreditation validates hospital residency programs that meet rigorous, evidence-based standards for quality and excellence. Nurses in our program experience curricula that promotes the acquisition of knowledge, skills and professional behaviors necessary to deliver safe, high quality care.
From acute care to ER and mental health nursing, our New Graduate Nurse Residency Program offers a wide range of opportunities that will cultivate your skills, experience and lifelong success in nursing. Meet Matthew, a recent nursing grad.
Our comprehensive one-year program offers challenging and inspiring experiences, including:
Celebrations for key milestones
Classroom and simulation curriculum lessons
Clinical and inter-professional experiences
Individualized orientations
Ongoing professional development
Peer group support
Reflective learning, journaling and self-care
Support from mentors
Application periods.
We are no longer accepting applications for the Winter 2021 New Graduate Nurse Residency Program.
We are currently reviewing the applications received and will be in contact with those candidates that are selected to interview. Please review the FAQs for a timeline of the process.
We recommend that you monitor the status of your application under the My Job tab in your profile.
Please continue to monitor this page for updates regarding our upcoming New Grad Nurse Residency programs.
New Grad Nurse Residency Program FAQs
When will you be accepting applications for the next New Graduate Nurse Residency Program?
We will begin accepting applications on Monday, July 12, noon PDT through Monday, July 19, 5 pm PDT.
When does Sharp HealthCare hire new grad RNs?
At Sharp, we offer the New Grad Nurse Residency Program several times a year. Please check back for updates regarding future opportunities.
Which units hire new grads?
The New Graduate Nurse Residency position posting will list the available programs. Availability is based on facility needs.
How many positions will you be offering for your New Graduate Nurse Residency Programs?
The number of positions for each new graduate nurse residency program is based on current and projected staffing needs at the time of the new graduate recruitment.
What are the requirements for the New Graduate Nurse Residency positions?
Must be a graduate of a U.S. state-approved and accredited nursing program
Must have a current unencumbered California RN license by program start date (unless otherwise specified)
Minimum ADN required; BSN preferred
Must have a current CPR certification appropriate for a health care provider
Must have graduated no more than 18 months prior to the start of the New Graduate Nurse Residency Program
Must have less than 12 months RN work experience by the program start date
Will my application be considered for both my preferred and alternate programs of interest?
Your application will be considered for the New Grad Residency Program that you have selected as your preferred program of interest. Your application for your alternate will be considered in the event the program you selected for your first choice is cancelled. Your application for your alternate may also be considered if the hiring manager has the capacity for additional candidates.
What is the timeline for the Winter 2021
New Graduate Nurse Residency Program?

Monday, July 12 , noon PDT: Position posted

Monday, July 19, 5 pm PDT: Last day to apply for positions. All applications must be submitted by 5 pm

July - August: Applications reviewed

August - October: Interviews take place

November 11 : Positions start
Can I apply for a New Grad position before I get my RN license?
Yes, you can apply before you have your California RN license and before you have graduated. However, you will need to have your California RN license by the start of the program. Please read the description of each program for specific start dates as this will vary.
I am a newly graduated RN and work as a nurse elsewhere. Am I still eligible to apply for a position?
To be eligible for our new graduate program, you would have to have less than 12 months of nursing experience by the program's start date.
Do I need to resubmit my documents if I have already submitted them in the past 12 months?
I'm a current Sharp employee. Do I need to apply through the New Graduate Nurse Residency Program?
Sharp employees must complete the New Graduate Nurse Residency application process in order to be considered for a new grad position.
Do I need to be a California resident to apply?
No, out-of-state candidates are eligible for the program if they meet the position requirements.
Can I apply for other RN positions, such as clinical nurse openings?
New graduate nurses must apply through the New Graduate Nurse Residency program. You qualify for "Clinical Nurse" nursing jobs that specifically describe the job posting as "New Grad RN Residency" posting. These are designed to help you gain the competencies to be successful in your career. Please do not apply for clinical nurse or other RN openings, as these positions require robust experience.
What documents do I need to submit?
All New Grad applicants must complete an online application and submit a resume. Cover letters are optional. Other clinical nurse or RN openings that do not have the indication as a New Grad RN position are for experienced RNs only.
Can I email or fax my packet?
We are unable to accept documents in person, by regular/certified mail, fax or email. We will list instructions on how to submit your documents under the How to Apply section at the time of posting.
How can I confirm you received all of my application documents?
You can view your submitted documents by checking your attachments in your profile.
I've received an email asking me to self-identify however the link doesn't work. What do I do?
Please disregard this notification. As your application is reviewed, the system will generate this message however there is no need to take further action.
How do I follow up on the status of my application?
You can view the status of your application by logging in to your account and viewing the job status of your submissions. The new graduate recruiter and/or hiring manager will contact any candidates selected to move forward via phone or email.
Learn more.
If you have a question that wasn't covered here, please email us at students@sharp.com.
Stay connected and join the career interest community
Want to stay informed about career opportunities and life at Sharp? Join our career interest community and receive information that matters to you.
Join the community