Meet our Sharp lab team
Click here for Lab Opportunities
Sharp Laboratory Services is dedicated to excellence in providing quality care with each specimen collected and test performed. At Sharp, we encourage a career of lifelong learning along with a healthy work/life balance.
Whether you're newly licensed or a seasoned lab professional, there's a place for you in one of our many lab settings. With full support from management and opportunities for career advancement, we empower our lab professionals to grow with us.
Samira Nooraee, advanced clinical laboratory scientist in our Immuno-Chemistry unit, has been with Sharp for 16 years. In her role, she performs and verifies complex analytical testing.
"Sharp has provided me the opportunities to learn more advanced testing and take on more important tasks in helping our leads and specialists with data verifications, precision studies, quality control, trouble shooting and problem solving." – Samira Nooraee, Advanced Clinical Laboratory Scientist.
Our lab technology and diagnostic testing
Equipped with sophisticated state-of-the-art equipment and technology, our teams deliver a full range of quality diagnostic testing for inpatient and outpatient specimens. Our lab employees take pride in representing Sharp's core values of integrity, caring, innovation, and excellence to provide the best diagnostic support, exceptional care and next-level customer service for our patients.
Our lab settings include hospital, outpatient clinic and reference lab with diagnostic testing performed in the following areas:
Vanessa Fox, Lab Director, has been with Sharp HealthCare for over 17 years. She supports her team of lab professionals while providing guidance and tools to help facilitate ongoing growth.
"Sharp works continuously on making all that we do better. We have so many resources to continually look at quality standards and achieve excellent outcomes. We use many systems to track outcomes and implement best practices throughout the system. We collaborate and work together as a team." - Vanessa Fox, Lab Director
From real time inventory interface with the San Diego Blood Bank to auto-verification in general lab sections, our labs have the tools to set you up for success. Here's a quick look into some of the equipment and technology our labs include: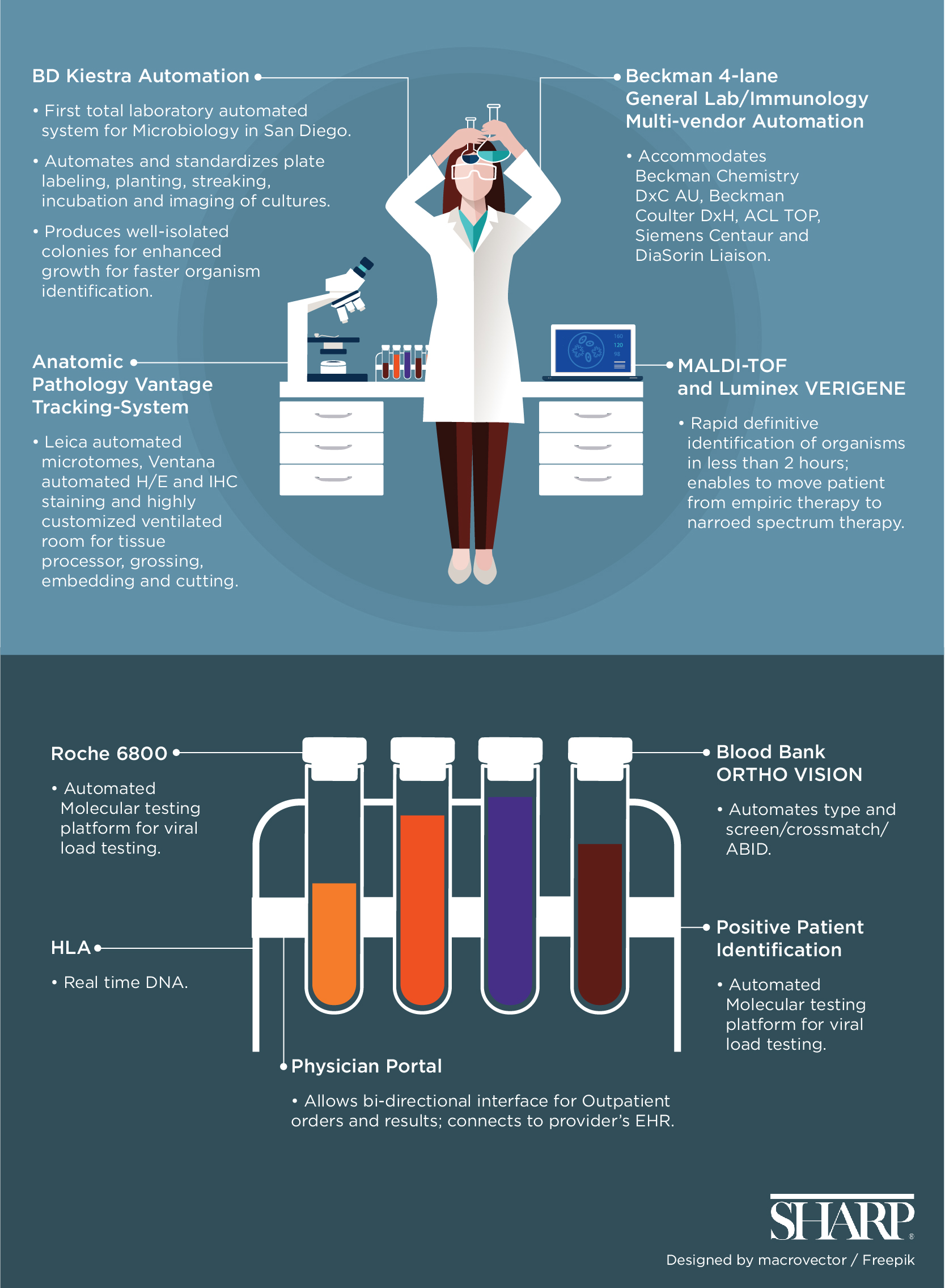 At Sharp HealthCare, we give you the tools, resources and opportunities you need to launch your dream career. Discover a rewarding laboratory career and help us make a difference today. View our openings