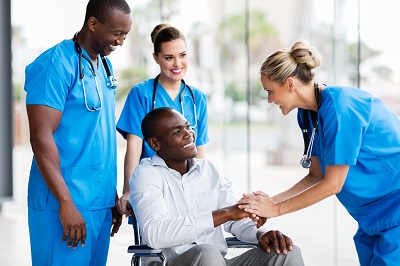 Learn about working as a float pool nurse
If you're a nurse who enjoys having a flexible work schedule while gaining valuable experience, Sharp's Staffing Resource Network (SRN) RN team may be the right fit for you. SRN is a pool of dedicated health professionals who provide staffing coverage throughout our health care system on a full-time, part-time and per diem basis.
As an SRN RN, you have the flexibility to control your own schedule, which promotes an ideal work/life balance. You'll have the opportunity to work across Sharp's health care system — in different locations, units and specialties — to quickly gain important experience and learn beneficial skills for your nursing career. You'll be eligible for health benefits (full-time and part-time employees only), along with incentives such as float differentials, where you can receive additional pay for working in different levels of care and sites.
We are looking for RNs with 3 years of acute care RN experience, along with 1 year of experience in the specific specialty area you are interested in applying for. Does this sound like the job for you? We spoke with Francine, SRN supervisor, and two SRN RNs, Dean and Kristol, on what you should expect with a career as an SRN RN at Sharp. Read more about what they had to say.
What are some qualities you think a successful float pool nurse should have?
Francine: SRN float pool nurses should be flexible, confident, enthusiastic, can work independently and have a positive, "can-do" attitude. We want individuals who enjoy the challenge, want to treat different types of patients in new environments and be excited to meet new people.
Dean: Most nurses have this kind of personality already, but you should be a people person. Basically, you must go to different units, where each unit has their own protocols and policies, so you have to kind of "go with the flow." I look at it like you're a guest. You need to be able to get along with everybody, working with different personalities and styles to get the job done and help the patients. Being a team player, easygoing and willing to help everybody is key. Nursing is the ultimate example of teamwork. No one can do it alone.
As a float pool nurse, how do you participate in The Sharp Experience?
Dean: The Sharp Experience is all about making the patient's experience as pleasant as possible. As an SRN float pool nurse, I'm a piece of that puzzle. We try to lift up the patients and help them get back on their feet to their normal selves. When you see that person lying in bed for days or weeks, and then they come back smiling, saying thank you. It's absolutely amazing.
What kind of benefits and incentives do float pool nurses receive?
Francine: The flexibility and ability to control your own schedule, which promotes a good work/life balance. As far as incentives, we have float differentials for nurses who work at different levels of care and sites. Also, we have mandatory trainings, where we pay them for classes — even our per diem employees.
Dean: The biggest benefit is the flexibility. As a per diem employee, I'm required to work at least 4 shifts a month. But I can work as many shifts as I want to and there are always shifts to pick up if need be. Another huge benefit is going into different units, seeing different types of specialties, patients, nurses and doctors. Being a float nurse, you learn so much more than a unit-based nurse in my opinion. It makes you a better nurse and a better person, and you help more patients.
Kristol: The complete and total flexibility it allows. In my old role, I had to work 4 weekend days a month. Now, I only do 1 weekend day a month with SRN. You're able to pick your preferred schedule and can pick holidays you want to take off. So, for me, that means more time with my family.
What does Sharp do to support float pool nurses?
Dean: The support is amazing. I've worked in plenty of other hospitals and I can tell you the support you get at Sharp is second to none. That includes staff that is always willing to help. The processes at every hospital are very nurse-friendly, so it doesn't take much to get multiple nurses and staff members to give you whatever you need, which makes our job so much easier. It also makes the patient experience much better, which leads to quicker recovery time.
Kristol: I feel very supported whenever I need anything. Managers are available to talk at any time, if need be. The continuing education, albeit required, is very well organized, and communication is always very fluid.
What's your advice on how candidates can get their applications noticed?
Francine: If you have the requirements, your application will get noticed! As far as the interview — be confident. Be aware of how you're presenting yourself. Are they asking questions? Do they seem interested? We're looking for individuals who are independent, have the "go with the flow" mentality and can adapt to different environments and work styles.
Any advice on how to succeed as a float pool nurse at Sharp?
Dean: Be you. You're expected to hit the floor running, so be ready. Have some SRN nurse connections, or a go-to person, to help you in the first month. You'll have a lot of questions. But the unit nurses are really helpful. If you're not sure of anything, don't do it. Ask questions.
Kristol: Have a positive attitude! Be flexible and adaptable. Be open to a new day, every day. If you feel overwhelmed, know that it's just one shift. It's okay to reach out for help!
Want to join our SRN nursing family? Search our career opportunities and apply today!